I was a big fan of early 90s Lego Space sets when I was a boy. It was a time of M-Trons, Blacktrons, Space Police, Ice Planet, and others. Unfortunately, Lego was very expensive compared to local wages back then so I didn't get many of them, let alone some big ones.
Much later, in 2008, I stumbled upon small Lego exhibition made by some local fans. There was a really huge M-Tron base and it got me thinking about buying few of those larger Space sets I wanted years ago. Well, after about two-month eBay shopping spree I had all M-Tron sets - together with about 60 others (and some individual parts orders from Bricklink). I became a nightmare for local post women with all these international packages coming nearly every other day. My best buy was probably Blacktron Message Intercept Base with original box for less than £20 from eBay UK.
These days I don't have time for Lego anymore, but hopefully this will change some day. And some larger building space would be nice too!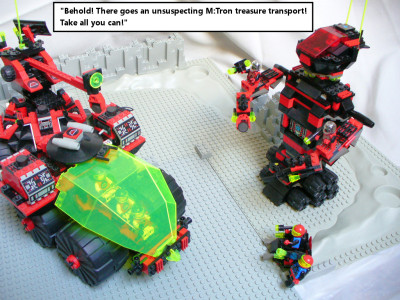 My latest creation is Ice Planet's Deep Freeze Defender rebuilt as a M-Tron ship. Unfortunately, it was quite damaged during moving to a different house so I'll have to do some repairs.
Check out my Brickshelf gallery and current set collection.